Floor Cleaning in Oakland Park, Florida
Oakland Park Florida Floor Cleaning is Hard Work
Keeping your Oakland Park floors clean is tough work! Cowell's Carpet Cleaning, Inc. can remove your floor cleaning headaches (and backaches!) We have been providing professional Oakland Park floor cleaning services since 2005. Say good-bye to tedious mopping and scrubbing and reclaim some "me time"! Let Cowell's Carpet Cleaning, Inc. do the tough work for you. Our Oakland Park floor cleaning experts will make sure to clean every inch of your floor, leaving nothing but shine. Don't wait, call (954) 320-0280 and find out why Cowell's Carpet Cleaning, Inc. offers the most meticulous floor cleaning Oakland Park has seen!
Cleaning Oakland Park Florida Stone Floors
Cowell's Carpet Cleaning, Inc. is experienced in all types of Oakland Park floor cleaning. One of our specialties is Stone Floor Cleaning for Oakland Park residents. Our we really understand stone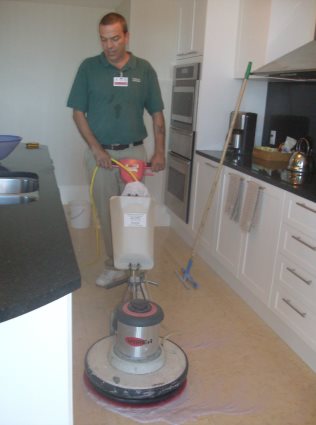 floor cleaning, and have the experience and know-how to make your stone floors shine. For a deep Oakland Park stone floor cleaning, look no further. We'll use our special buffing machine to remove build-up, and a chemical-free cleaning process that will render your floors spotless, all while protecting children and pets.
Other Type of Floor Cleaning in Oakland Park:
Tile and Grout
Vinyl Floor Cleaning
Linoleum Flooring
Stone Floor Care and Cleaning
Oakland Park Floor Cleaning For All Surfaces
Cowell's Carpet Cleaning, Inc. is experienced in cleaning a wide variety of flooring surfaces, and we'll match the product to the surface to give the most effective floor cleaning. For quality floor cleaning, Oakland Park homeowners call on Cowell's Carpet Cleaning, Inc. to use our proven techniques to bring back the beautiful luster. For an Oakland Park tile floor cleaning, we utilize a cleaning solution that works best for grout and tile cleaning, so that stains and dirt will be thoroughly removed. To remove scuffs and clean floors, Oakland Park homeowners rely on Cowell's Carpet Cleaning, Inc.'s proven methods, which leaves their floors sparkling clean. Call Cowell's Carpet Cleaning, Inc. today for a free estimate and find out why we're Oakland Park's preferred floor cleaners!
---
Call for FREE Floor Cleaning Quote
---
WHAT CUSTOMERS ARE SAYING:
5★★★★★ - "Professional, effecient, on time, friendly - very good service."

Gloria E., Construction Site Clean Up in Miami, FL

2013-05-02

5★★★★★ - "I would hire Cowell again, They did a great job."

Construction Site Clean Up in Pompano Beach, FL

2013-05-02

5★★★★★ - "Terrific Terrific Terrific !!!
It was my Lucky Day. I found Cowell's Carpet Cleaning by chance on the Internet. After reading a few reviews, I decided to give Cowell's a call. Warren answered the phone right away. I told him that we had an area rug that was pretty beat up by our two cats. I gave him the measurements and he was able to give me the price over the phone. Warren arrived 10 minutes early for our appointment and he was ready to work. The rug now looks Amazing and there is no odor. The thing that most impressed me was the professionalism. Warren did exactly what he said he would do. I Highly Recommend Cowell's Cleaning. Give them a call you will not be disappointed."

CK in Pembroke Pines, FL

2019-11-18

5★★★★★ - "I just got my couch steam cleaned again. Something that needs to be done on a regular basis with 2 boys! The ONLY company I will use to steam clean anything is Cowell's Cleaning. Pays so much attention to detail...and does every job with passion. Really great company and the person to have your stuff cleaned. Thank You, Warren and Cowell Cleaning family! Happy LIGHT BLUE COUCH owner with 2 boys!"

Christin in West Palm Beach, FL

2019-11-04

5★★★★★ - "WOW! Just WOW! I recently had pretty extensive renovations done at my townhouse. With people coming and going all the time, my tile and grout became filthy. Well, it was already dirty. It just became MUCH worse. My tile downstairs was not sealed properly so I really needed to have the tile/ grout cleaned thoroughly and then sealed. I called multiple companies. No one answered, nor did anyone even return my calls. I called Cowell's Carpet Cleaning. Warren answered immediately. He said that he could come out to my home and give me a quote the NEXT DAY at 9 AM. Warren arrived promptly at 9 AM. We walked through my home. He gave me a demo. The grout cleaned up nicely. He said that he could also clean my upholstery. Since there had been so much dust, I said I would like that done as well. He told me that he could come back out to my home the following Tuesday at 9 AM. Again, he arrived promptly at 9 AM. He and his coworker moved all of my furniture and did a thorough job. They were at my home from 9 AM until 2 PM. My tile and grout were cleaned and sealed. They look like they did when they were first installed. I was AMAZED. My furniture looks perfect. Pricing was more than fair. All of my furniture was moved back into place when the job was completed. ALL of the dust in my home is gone. I could not be happier. This was not a rushed job. Warren obviously takes great pride in doing a thorough job. GREAT JOB! GREAT PRICE! GREAT COMPANY! Thank you, Warren!!!!"

Joseph Ansell in Wilton Manors, FL

2019-07-18

5★★★★★ - "Warren's service was superb. He was on time and left the areas spotless. I would highly recommend him."

Steve in Coral Springs, FL

2019-07-10

5★★★★★ - "I cannot say enough about Warren. He came highly recommended as he does all the carpeting in my high rise condo building; so I knew going in that he'd be great. I had to reschedule several times due to furniture issues, and Warren was so gracious and pleasant. Finally, my living room furniture was removed and I was able to get my carpet done. The carpet is old and there are some "wear" spots that weren't going to get clean like the rest of it no matter what. Warren told me that initially so that my expectations were managed. Still, the entire carpet throughout my condo looks great and refreshed, and I couldn't be more satisfied. The price was more than fair and Warren didn't try to sell me anything. I will be using Warren as my go-to and I highly recommend him! Thank you, Warren."

Andrea Brodsky in Lauderdale by the Sea, FL

2019-07-08

5★★★★★ - "I have a sectional sofa and a regular size couch that now looks Brand New after they were cleaned. Not only do they do an EXCELLENT job, but Warren and his wife are the nicest people and their prices are very fair. I would highly recommend Cowell's Cleaning to anyone looking for an Honest and great company"

Jo-Ann Sears in Pompano Beach, FL

2019-07-02

5★★★★★ - "Warren and his team did a fantastic job on our carpets. Very professional, prompt and meticulous about keeping cords and hoses off the walls - highly recommend them."

James in Wilton Manors, FL

2019-06-28

5★★★★★ - "My family & I would like to give Warren Cowell a huge thank you for such an excellent and superb customer service. We needed our tile and grout at home to be cleaned and sealed but we were afraid to get a company who would not be honest about the results and would charge us an obscene amount of money. From the moment we called Warren, he was attentive and knowledgeable over the phone. Before giving us a quote, he took the time to stop by our home to take a look at our tile grout and do a sample test. He explained the process of cleaning & sealing and adviced us how to properly care for our floors. We admired his honesty and how he set realistic expectations based on the type of tile & grout we had and the condition in which they were. In addition to this, Mr. Warren exemplified honorable work ethics. We wish there was a higher number on the scale to rate his service today. It met and exceeded our expectations."

Alba G. in Margate, FL

2019-06-24

5★★★★★ - "Impeccable work. I use them all the time."

Chriz Tokar in Fort Lauderdale, FL

2019-06-17

5★★★★★ - "My husband an I were renovating a condominium. We replaced the tile floors in the main living area but wanted to keep the tiles in the three bedrooms. We called Warren and he was able to get to work on our condo the next day. He did a test to show us how the grout would look after the tile was cleaned and it looked great, so we said go ahead. The tile and grout came out looking like new. Warren is very nice and friendly and easy to deal with. He shows up on time and his prices are the best of the four companies that we contacted before contacting him. I highly recommend him and will be using him to do our home's tiles in the near future."

Kimberly N., Tile & Grout Cleaning in Fort Lauderdale, FL

2019-06-12

5★★★★★ - "For years my daughter has urged me to call Cowell's Carpet Cleaning and I was always hesitant because of the countless companies I've brought out before who played games and weren't honest. I finally said ok and it was the best decision I ever made. This is what you call honest people.. I asked for my bedroom and two area rugs which came out perfect, dried up fast.. I also asked for my sofa to be cleaned and was given a straight, honest answer that it would not come out good. It's rare you find honest people. Prices are EXTREMELY reasonable, came on time and very professional it didn't feel like anyone was there. If your looking for carpet cleaner end your search here."

SH in Davie, FL

2018-10-03

5★★★★★ - "DOG PEE on the light blue microfiber sectional couch! Not on the side or back...ON THE CUSHIONS! Need I say more!? Called Warren and he was over the next day to clean our sectional couch for us! Great service with great pricing! Second time using Cowell's Carpet Cleaning and won't go anywhere else. Thanks Cowell Family!"

Christin in North Lauderdale, FL

2018-03-12

5★★★★★ - "I had Warren come and clean an area rug we have had for more than 3 years without being cleaned before a baby shower. He did a great job and the rug came out better than I expected. Great friendly service."

Christin in North Lauderdale, FL

2018-03-05

5★★★★★ - "I can't even BELIEVE that Warren was about to get thick black mascara out of my linen upholstered bed frame. I wanted to cry I was so happy. My two year old twins got ahold of the mascara and went to town on my master bed. I thought the bed was ruined. Warren said he'd come give it a try and was able to come at 9 am the next morning. He spent an hour on the bed and to my amazement, it all came out. Good as new! I will always use Warren for all my future cleaning needs and recommend Cowell's Carpet Cleaning to all my friends. Thanks so much Warren!"

Jessica in Coral Springs, FL

2018-01-29

5★★★★★ - "I thought my brand new carpet was ruined from a few untimely pet accidents. I was willing to pay what I anticipated to be a large sum to have the stains removed. I was so pleased with the results from Warren, my Cowell's technician. His work was efficient, timely, and he charged me considerably less than what I had expected. I would recommend Cowell's to anyone and want to thank Warren very much."

Dave Mallouk Coconut Creek, FL

5★★★★★ - "they were on time, friendly, wonderful job; will use them again"

marsha in Pompano Beach, FL

5★★★★★ - "I am so pleased with the excellent job Warren did on my 36-year-old tile and grout. In just a few hours my floors look brand new again! I highly recommend Cowell's Cleaning."

R. Gordon in Lauderhill, FL

5★★★★★ - "Warren did an excellent job with my carpets and tile. I had a great experience and will definitely call Cowell's Cleaning again!"

Anonymous, Carpet Cleaning

2017-06-12

5★★★★★ - "Warren from Cowell's Carpet Cleaning is fantastic. He cares about his business and his customers and it shows in everything he does! Highly recommend."

Diane

5★★★★★ - "So glad I found Cowell's Carpet Cleaning to clean my tiles and rugs.
My floors look terrific. Warren and Corrina are so thorough and attend to every detail. I would definitely recommend them to family and friends."

Laurie McGregor in Tamarac, FL

5★★★★★ - "On time. Did a great job. Very professional. My sofa is like brand new!"

Daniel C. in Wilton Manors, FL

5 ★★★★★ - ""Cowell's Cleaning is very professional, very reliable and always on time. You can call them to schedule at anytime you like and they are always available. I have had them clean my Hunter Douglas blinds as well as my carpets. They do a very clean job and don't leave any mess behind.""

Anonymous in Davie, FL

5 ★★★★★ - "On time, very friendly and they pay attention to all details. I have used them in the past so I appreciate their services enough to hire them again."

PJ in Fort Lauderdale, FL

5

★★★★★ - "I highly recommend Cowell's cleaning. They were very courteous, professional, and prompt with their work. I had them clean our gutters, and the work was excellent!"

Kailash in Miami, FL

5★★★★★ - "Warren & wife came very clean, friendly and did an exceptionally good job. The rug came out beautiful and more definitely would recommend."

C Blanchard, Carpet Cleaning in Lighthouse Point, FL

2013-12-20

5★★★★★ - "Warren and his wife were very professional, helpful and polite. They even helped move up furniture to place the rugs. They were also patient."

Molly Jolluck, Carpet Cleaning in Fort Lauderdale, FL

2013-12-20

5★★★★★ - "They cleaned the entire carpet in my mother's house. They also cleaned the mildew from the A/C vent. They have also cleaned my couch. They are wonderful. They arrive on time, do a god job, and know what they're doing. They are a great husband and wife team together. Their prices are very reasonable and they can be trusted. I would have them come clean without supervision. They also have new up to date equipment."

Marilyn Davis, Carpet Cleaning, Air Duct Cleaning and Upholstery Cleaning in Hollywood, FL

2013-12-20

5★★★★★ - "Have used them several times and always gets excellent service."

Nancy Brown, Carpet Cleaning in Miami, FL

2013-12-20

5★★★★★ - "They worked out fine. They did a good job. They were responsive and followed up well."

Randy Bultema, Carpet Cleaning in Ft. Lauderdale, FL

2013-12-20

5★★★★★ - "Warren and his wife were very friendly and professional. They offered a great competitive price and the final job was outstanding."

Erica Brick in Hollywood, FL

2013-12-20

5★★★★★ - "It was a wonderful experience. Warren and Corina are very friendly and professional. They explained the various facets of the work that they accomplished before they started. They made recommendations without any high pressure sales. The work was done effeciently, yet they made sure that the finished product met both ours and their expectation. It was evident customer satisfaction was their highest priority."

Anothony Codispoti, Carpet and Upholstery Cleaning in Coral Springs, FL

2013-12-20

5★★★★★ - "Called Warren Cowell on April 2013 for an estimate. We did not get to use his service until September 2013, still honored original price. Work done is by far the best carpet cleaning ever. Warren should do everyone's cleaning."

Ben Waks, Carpet Cleaning in Plantation, FL

2013-12-20

5★★★★★ - "Mr. Cowell arrived on time. Very personable answered any questions I asked. Very professional - we absolutely use Cowell's Carpet Cleaning from now on."

Karen Guben, Carpet Cleaning in El Portal, FL

2013-12-20

5★★★★★ - "Punctual, precision cleaning! Pleasurable and not pricey!"

Linda Conrad, Carpet and Upholstery Cleaning in North Palm Beach, FL

2013-12-20

5★★★★★ - "Very professional & very concerned for all of my needs."

Angel Garcia, Carpet Cleaning in Miami, FL

2013-12-20

5★★★★★ - "Excellent work. I've used Cowells several times and have been extremely satisfied every time. They are friendly, courteous, and very professional."

Dianne McGee, Carpet Cleaning

2013-12-20

5★★★★★ - "It was great!! Professional, reasonable priced! They are very honest people."

Jacaqueline Gagnon, Carpet Cleaning in Coconut Creek, FL

2013-12-20

5★★★★★ - "Cowell was very prompt and professional from start to finish."

Melisse Brown, Carpet Cleaning in Davie, FL

2013-12-20

5★★★★★ - "Warren and his wife arrived early. They were lovely, explained everything, and went right to work. Everything went well and they were so neat and clean and tidy."

Joann Fever, Carpet Cleaning in Davie, FL

2013-12-20

5★★★★★ - "Great, they came in on time, half and hour early, took carpets in the garage, cleaned them and left. Very professional."

Roula Baleman, Carpet Cleaning in Coconut Creek, FL

2013-12-20

5★★★★★ - "Very pleasant experience. Husband and wife came together, very professional and very nice. I will definitely use them again and I would recommend them to everyone."

Margaretha Silverman, Carpet Cleaning in Davie, FL

2013-12-20

5★★★★★ - "They arrived 15 min before the appointment schedule. Very courteous and professional. Explained what was going to do. Excellent result."

Jaime Tonico, Carpet Cleaning in Hollywood, FL

2013-12-20

5★★★★★ - "Excellent job! Not only did they do an excellent job shampooing the carpet and cleaning the grouts, they did at an amazing price. They also went the extra mile by doing basic cleaning where it was not necessary to clean the grouts in the tiles. I would highly recommend Coweel's Carpet Cleaning Services to everyone. I have already contracted with them on 2 occassions and will continue to do so in the future as well."

Siddharth Jetty, Carpet Cleaning

2013-12-20

5★★★★★ - "I called on Monday. Cowell arrived on time and completed work in approx 1 hour."

Gerald Moore, Carpet Cleaning in Deerfield Beach, FL

2013-12-20

5★★★★★ - "On time, excellent work, good price."

John Iturriaga, Carpet Cleaning in Coral Gables, FL

2013-12-20

5★★★★★ - "Were excellent! Professional, courteous, would call them again."

Gutkine Nissenbaum, Carpet Cleaning in Delray Beach, FL

2013-12-20

5★★★★★ - "Immediate response, punctual, professional, rapid work, explained maintenance, fair pricing. I will be using them again in the future."

Richard Fleischman, Carpet Cleaning in North Miami Beach, FL

2013-12-20

5★★★★★ - "The Cowells were here on time and worked all day to bring my carpet & tiles back to their original appearance."

Marjorie Silberling, Carpet Cleaning in Hollywood, FL

2013-12-20

5★★★★★ - "I found Cowell's on the internet, they came within 10 minutes. I told them what I had and they gave me a quote on three rooms."

Anthony Vitolo, Carpet Cleaning in Delray Beach, FL

2013-12-20

5★★★★★ - "Showed up early. Very professional. Great service and great price. I Have already recommended to family and friends."

Henrique Silva, Carpet Cleaning in Deerfield Beach, FL

2013-12-20

5★★★★★ - "Excellent service, flexible schedule to meet my needs."

Nancy Brown, Oriental Rug Cleaning in Miami, FL

2013-12-20

5★★★★★ - "We have used them for a few years and will continue to use them. I know they are and have been very reasonable and affordable. We're always happy with their work. They go abbove and beyond and are very thorough. Very responsive and accessible - outstanding customer service. They are supremely friendly, courteous, professional and accommodating. He's always doing everything possible to pelase us."

Jamie Harris, Carpet Cleaning in Fort Lauderdale, FL

2013-12-20

5★★★★★ - "Friendly, knowledgeable and experienced."

Jesse B., Carpet Cleaning in Miami, FL

2013-10-16

5★★★★★ - "Very timely, dependable. Carefully explained the procedures and recommendations. Will reuse and recommend."

Don B., Carpet Cleaning in Pompano Beach, FL

2013-10-16

5★★★★★ - "Very easy to work with, no bait and switch with this company, overall excellent company to do business with."

Angel G., Carpet Cleaning in Miami, FL

2013-10-16

5★★★★★ - "Honest dependable. Would hire again in a minute. Neighbor already came in saw work and hired."

Carpet Cleaning in Delray Beach, FL

2013-10-16

5★★★★★ - "Very polite, was on time and didn't leave a mess. Very happy with the company."

Greg Y., Upholstery Cleaning in Pompano Beach, FL

2013-10-16

5★★★★★ - "They are friendly , considerate and very informative In xplaining their process of work. The quality of work is excellent. I will definitely recommend Cowells to everybody I know that needs their service."

Alex D., Carpet Cleaning in Delray Beach, FL

2013-10-16

5★★★★★ - "I was very pleased with the upholstery cleaning on my sectional sofa. It looks brand new! Warren was very courteous and conscientious. I will be using this service again."

Sherri H., Upholstery Cleaning in Delray Beach, FL

2013-10-16

5★★★★★ - "Very pleased with Warren's work, he removed stains that were present a long time. He was careful to protect my furniture and my carpet. He was on time, courteous and thorough. My carpet looks great. So overall a very good experience. I would highly recommend his company."

Laura C., Carpet Cleaning in Pompano Beach, FL

2013-10-16

5★★★★★ - "Thank you Warren. ~ Great service ! Nice to know some people still take pride in what they do and how they do it. On time, polite and friendly ~ Best of all the work that was performed looks GREAT! What more can you ask for? Five Stars Across the Board! ~ Happy customer! .. Thank you Warren."

Olivier S., Upholstery Cleaning in Miami, FL

2013-10-16

5★★★★★ - "We were quite happy with the work done at our home. Very professional, and we would highly recommend Cowells for a fair price and a job well done."

Carpet Cleaning in Delray Beach, FL

2013-10-16

5★★★★★ - "Nice folks who informed me of the process in advance. They were methodical and meticulous. They went the extra distance to do the best job possible."

Ron P., Carpet Cleaning in Fort Lauderdale, FL

2013-10-16

5★★★★★ - "Perfect job. Pleasant & Prompt!"

Linda C., Carpet Cleaning in North Palm Beach, FL

2013-05-02

5★★★★★ - "The price he quoted me over the phone was the price he charged, not a penny more! Was quick to call back and quick to complete the job. Pleasant experience."

Randy B., Carpet Cleaning in Fort Lauderdale, FL

2013-05-02

5★★★★★ - "They were the first to call and I'm glad they where. They did a great job."

Ric S., Carpet Cleaning in Fort Lauderdale, FL

2013-05-02

5★★★★★ - "They don't come any better than Warren Cowell. Execellent Service!! Carpet in all four rooms looked brand new when he got finished cleaning it. I will be using him consistently to take care of all my carpet cleaning needs. The price was great and the job was Outstanding. Honestly, I have used Stanley Steemer before and they could not have done any better although I would have been charged much more simply because of the name. Names don't mean a Hill of Beans these days."

Dollie R., Carpet Cleaning in Deerfield Beach, FL

2013-05-02

5★★★★★ - "Very Professional people. Took time to make sure of the best results; gave helpful hints to maintain."

Sheila B., Upholstery Cleaning in Boynton Beach, FL

2013-05-02

5★★★★★ - "Excellent job! Went the extra mile to clean more area than had requested. Very happy with the end result and the job was done at a competitive price."

Siddharth J., Carpet Cleaning in Lake Worth, FL

2013-05-02

5★★★★★ - "Amazing job, great value, polite. Highly recommend!!!!"

Upholstery Cleaning in Miami, FL

2013-05-02

5★★★★★ - "He did a great job."

Erminio G., Upholstery Cleaning in Deerfield Beach, FL

2013-05-02

5★★★★★ - "WOW...simply said...read their website...it says it all...could not have been more pleased...highly recommend for hand dry cleaning upholstery & carpets...they truly care about your possessions..."

P.M., Upholstery Cleaning in Lake Worth, FL

2013-05-02

5★★★★★ - "Showed up on time and did a great job, I recommend them."

Jose M., Upholstery Cleaning in Miami, FL

2013-05-02

5★★★★★ - "Efficient, prompt and friendly service."

Richard & Leslie B., Carpet Cleaning in Fort Lauderdale, FL

2013-05-02

5★★★★★ - "What nice people and quality work. I had my home carpets drycleaned, office tile and carpet cleaned and Warren and his wife did fabulous job. Would highly reoommend them to anyone."

Pat F., Carpet Cleaning in Dania, FL

2013-05-02

5★★★★★ - "Outstanding carpet and furniture cleaning contractor. He and his wife are very personable and we have alreadyu recommended them to neighbors. Will certainly use them in the future."

Stanley K., Carpet Cleaning in Fort Lauderdale, FL

2013-05-02

5★★★★★ - "Mr. Cowell is a professional and a gentleman."

Geraaldine S., Carpet Cleaning in Hollywood, FL

2013-05-02

5★★★★★ - "They were great. They were careful with the cleaning process and the products they used left no unpleasant smells. Most importantly the sofas are clean and look much brighter."

Shirley M., Upholstery Cleaning in Miami Beach, FL

2013-05-02

5★★★★★ - "They did an excellent job of cleaning. We had moved out the furniture to get it ready to rent and they were able to get out all the stains that were underneath the furniture. Prompt, courteous and very nice to deal with. Would definitely call them again and recommend to others."

Carpet Cleaning in Delray Beach, FL

2013-05-02

5★★★★★ - "Warren and his associate were EXTREMELY careful in my home without being asked. I have a lot of antique wood furniture that cannot be replaced. Their degree of professionalism was incredible."

Tracey S., Carpet Cleaning in Miami, FL

2013-05-02

5★★★★★ - "Great. Professional, picked up and delivered rugs on time and at my convenience."

Carpet Cleaning in Fort Lauderdale, FL

2013-05-02

5★★★★★ - "On time, very friendly and professional, love my nice clean furniture. Thanks."

Tracy D., Upholstery Cleaning in Hollywood, FL

2013-05-02

5★★★★★ - "Service was prompt, professionaland courtesous. They worked with me to perform the service that was convenient for me. Was very pleased with them. I will definitely use Cowells again."

Nancy B., Offsite Rug Cleaning in Miami, FL

2013-05-02

5★★★★★ - "Very nice and professional. I would suggest Warren anytime."

Carpet Cleaning in North Miami Beach, FL

2013-05-02

5★★★★★ - "Prompt, more then fair on pricing. Great job!!"

Linda S., Carpet Cleaning in Lake Worth, FL

2013-05-02

5★★★★★ - "Warren and his wife were both extremely professional and courteous. They showed up on time both times I used them and seriously worked magic both times. I had tenants that were less than clean and the carpets showed that. By the time Warren and his wife were done, the place looked pristine. There is no doubt in my mind that I will be using them again and again."

Steve R., Carpet Cleaning in Fort Lauderdale, FL

2013-05-02

5★★★★★ - "Very professional. Went the extra mile. Offered additional services. Performed additional services without an extra to the original quote. Will recommend and use again."

Paul M., Carpet Cleaning in Miami, FL

2013-05-02

5★★★★★ - "They were very professional . They were knowledgeable, timely, courteous, and thorough."

Wendy B., Carpet Cleaning in Miami Beach, FL

2013-05-02

5★★★★★ - "They did an excellent job with the Carpets and with extra services. They took there time and did a professional job. There prices were very competitive, but lower than the others. There level of services and professionalism is #1. I was able to hire them from China and was able to trust them to do there job in my home without my presence. They provide me pictures before & after. All round great company. Special thanks to Warren!!! Great Job!"

Robert D., Carpet Cleaning in Fort Lauderdale, FL

2013-05-02

5★★★★★ - "Very good experience, He called the day before to confirm, showed up on time and did a great job."

Carpet Cleaning in Miami, FL

2013-05-02

5★★★★★ - "Very efficient!"

Carpet Cleaning in Fort Lauderdale, FL

2013-05-02

5★★★★★ - "Professional....Showed up on time and great prices."

Gus B., Carpet Cleaning in Miami Beach, FL

2013-05-02

5★★★★★ - "We have used their service twice now as we were so impressed after our first experience. They were re;lable, kind and responsive to our every request!! I would most definately recommend their service."

Cindy H., Carpet Cleaning in Fort Lauderdale, FL

2013-05-02

5★★★★★ - "Prompt, fair price. Great job."

Al G., Carpet Cleaning in Lake Worth, FL

2013-05-02

5★★★★★ - "I am satisfied with the service Cowells Carpet Cleaning performed on my microfabric furniture. Cowells was timely and professional. I will be sure to contact them the next time my furniture is in need of cleaning."

Mimi D., Upholstery Cleaning in Lake Worth, FL

2013-05-02

5★★★★★ - "The service I received was exceptional. They arrived on time, performed the service with attention to detail and in a very expeditious manner. The results are outstanding. Very personable, professional and overall superb. Thank you so much."

Yanir H., Upholstery Cleaning in Miami, FL

2013-05-02

5★★★★★ - "The job was started and completed as scheduled. The efforts by the staff from Cowells gave me very good results. I was very pleased with everything."

Carpet Cleaning in Fort Lauderdale, FL

2013-05-02

5★★★★★ - "Very pleasure customer service. Prompt and professional."

Lori V., Upholstery Cleaning in Hialeah, FL

2013-05-02

5★★★★★ - "I was very impressed with their professionalism and quality of work. This is a company that I would recommend without reservation. They quoted me a price (which was MUCH less) than any of the other companies and picked up and delivered my carpets as promised. I would use Cowell's Carpet Cleaning Service again and would highly recommend Warren Cowell and his Company to anyone looking to have their carpets cleaned and other work that this company does."

Jim D., Offsite Rug Cleaning in Hollywood, FL

2013-05-02

5★★★★★ - "Took extra care and got out some tough spots. Very professional and pleasant. Would recommend."

Carpet Cleaning in Pompano Beach, FL

2013-05-02

5★★★★★ - "Right on time, hard working proffesionals. They gave me good advice about carpet."

Carpet Cleaning in Pompano Beach, FL

2013-05-02

5★★★★★ - "I know people have so many choices when it comes to selecting a retail service like carpet cleaning. However when I used your website, Warren from Cowell?s Carpet Cleaning called me back within 60 seconds of me hitting the send button. Talk about your WOW Factor ? They came into our home and made our disgusting white Berber carpet look like new! I couldn?t ask for a better honest company than Cowell?s Carpet Cleaning! I am very happy with the services they provided. Thank you so much!"

Jackie S., Carpet Cleaning in Pompano Beach, FL

2013-05-02

5★★★★★ - "The whole cleaning job was done very,very good and Warren and his wife were very nice and friendly people.I would HIGHLY recommend them to anyone for job the need done.I will definately be using them again."

William B., Upholstery Cleaning in Fort Lauderdale, FL

2013-05-02

5★★★★★ - "Excellent job and very professional couple."

Martha C., Upholstery Cleaning in Miami, FL

2013-05-02

5★★★★★ - "I would rate Cowells Carpet Cleaning 5 stars. They showed up when they said they would. They did a wonderful job on my rugs and delivered them back quickly. I thought thier prices were fair. I will definately use them again in the future."

Kathy M., Offsite Rug Cleaning in Fort Lauderdale, FL

2013-05-02

5★★★★★ - "Wayne and Christina were fantastic. They arrived early gave me a really low price and finished the job in an hour. I had some serious stains due to a busted ac unit and various stains through out. Not a problem for these guys. Wayne informed me that a particularly tough spot didn't come out perfect. When I went to review it, I couldn't even tell that a stain had been there! That gives you an idea of the high standards they hold themselves to. These guys are great and worth every penny. Highly recommended."

Hiram G., Carpet Cleaning in Fort Lauderdale, FL

2013-05-02

5★★★★★ - "Did a great job. Would definitely use again."

Rosanna F., Carpet Cleaning in North Miami Beach, FL

2013-05-02

5★★★★★ - "They were half the price of the rest of the estimates. That scared me a bit at first - I wasn't sure why. But like the owner had said in this economy he just has to get business. And I really hope he does. They did an excellent job. They spent a while cleaning the couch. It looked like new when they were done. I didn't know if that was possible since I have two toddlers that spill milk and everything else on it. Then I asked them to do the kitchen chairs while they were here. They were very professional and efficient. I have saved their cards for future cleanings. I definitely recommend them. "

Kim M., Upholstery Cleaning in Lake Worth, FL

2013-05-02

5★★★★★ - "Mr. Cowell was extremely professional and a pleasure to deal with. He did not try to sell my any unnecessary cleaning solutions and was extremely reasonably priced. He was early for his appoinment and completed the job in a timely manner. We had been renovating our home and our furniture had gotten very dusty and dirty but he has left my furniture looking new. THANK YOU COWELL'S CLEANING!"

Sylvia S., Carpet Cleaning in Fort Lauderdale, FL

2013-05-02

5★★★★★ - "Extremly punctual, very efficient and friendly, all around a pleasure to work with!!"

Carpet Cleaning in Miami, FL

2013-05-02

5★★★★★ - "Prompt and courteous, which can for Maimi can be hard to find. They even showed up a few minutes early. This family run business goes the extra mile, was honest, thorough, and did an exellent job, for an exellent price, for a cleaning, even under furniture. They are willing to work with you. Try them out. You will be pleased. I got business cards for my neighbors and friends, which I rarely do. Definitely, I will use them next time I need carpet, or tile, or related cleaning needs."

Duane C., Carpet Cleaning in Miami, FL

2013-05-02

5★★★★★ - "The overall service was good... The owner were friendly and reliable."

Carpet Cleaning in Hollywood, FL

2013-05-02

5★★★★★ - "They were friendly and very professional. I would recommend them to my friends."

Carpet Cleaning in Pompano Beach, FL

2013-05-02

5★★★★★ - "Good job. Very professional. On time. Service was as promised."

Herman G., Carpet Cleaning in North Miami Beach, FL

2013-05-02

5★★★★★ - "They were extremely professional and answered me in a timely manner. I would definitley suggest them, and we will definitley be using them again!"

Carpet Cleaning in Miami Beach, FL

2013-05-02

5★★★★★ - "Cowell's Cleaning Service did an outstanding job on all of my carpets as well as all of my upholstery. They took their time and paid close attention to every detail. They were very personable and open to answering any and all questions I had. I will definitely call on them again in 6 months. My house looks and smells sparkling clean. I couldn't be happier!"

Pam B., Carpet Cleaning in Pompano Beach, FL

2013-05-02

5★★★★★ - "They did a great job on the carpet! Cleaned up everything when the were done,and put things back in the right place. They were also very reasonably priced."

Carpet Cleaning in Hollywood, FL

2013-05-02

5★★★★★ - "Liked how they shampoo before the actual cleaning. 2 step process. Others don't do this. "

Marilyn D., Carpet Cleaning in Hollywood, FL

2013-05-02

5★★★★★ - "Very personable,hard working.Cleaned working areas as he went,left my house clean,with no water puddles or damage to walls or furniture."

Pauline H., Upholstery Cleaning in Miami, FL

2013-05-02

5★★★★★ - "Deserving of the highest performance compliments and have recommended to others!"

Carpet Cleaning in Fort Lauderdale, FL

2013-05-02

5★★★★★ - "Communication was very good ,Performed an excellent job , On time... A + !"

Rug Cleaning in Fort Lauderdale, FL

2013-05-02

5★★★★★ - "Warren is a find and one of a kind. He is professional, puctual, pleasant proficient and GREAT!! He did a beautiful job cleaning my white carpet and dirty white chairs. I have already recommended him to my friends."

Carpet Cleaning in Miami Beach, FL

2013-05-02

5★★★★★ - "They were GREAT!"

Carpet Cleaning in Miami, FL

2013-05-02

5★★★★★ - "I will contact them again for future work. Great people to work with. Very fair pricing."

Gutter Cleaning in Pompano Beach, FL

2013-05-02

5★★★★★ - "My husband and I highly recommend CowellCarpet cleaning. They were prompt, extremelycourteous and professional. They did a terrific job on my carpets and furniture. I was amazed that we got all this for the low cost. We had them come back out a couple of days later to clean both bathrooms tile and grout and was very pleased with how they came out. We will use this company again."

Carpet Cleaning in Fort Lauderdale, FL

2013-05-02
---
Call for FREE Floor Cleaning Quote
---